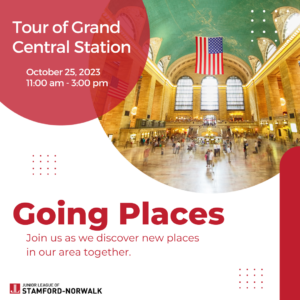 Going Places: Tour of Grand Central Station
Wednesday, October 25, 2023, 11:00 am – 3:00 pm
Grand Central Station, NYC
Sign on on the League calendar here.
Join us for a 90-minute tour of Grand Central Station, by our old time favorite guide Bob Gelbert, to uncover 150 years of history and countless untold stories within its halls. See a new side of the world's most famous train terminal and gain an appreciation for its near-magical scale. Tour starts at 11:00 am with lunch to follow. Questions? Reach out to Cyndianne Gates.
Time: 10:45 am Meet at the Grand Central Information Kiosk
Cost: $35 for the tour, lunch is extra
Lunch: Pershing Square Cafe, 1:00, Dutch Treat
Reservations: Please send your email address, cell phone number, and $35 check payable to JLSN Sustainers to Cyndi Gates, 5 Salem Road, Westport, CT 06880
Deadline: Friday, October 20, 2023