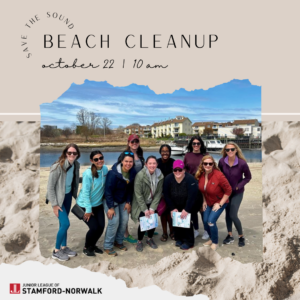 Beach Cleanup with Save the Sound
Sunday, October 22, 2023, 10:00 am
Cummings Park, Shippan Ave, Stamford
Sign up on the JLSN calendar here.
Join Done in a Day and Save the Sound for a coastal cleanup! Help us protect the environment by cleaning up litter and debris at Cummings Beach in Stamford.
Plan to join afterwards for a brunch at Fortina in Stamford. All are welcome for brunch, even if you are unable to join DIAD earlier.