On February 9, 1923, the first JLSN officers were elected to lead a group of 40 members who provided volunteer services to local charitable organizations including the Visiting Nurse Association, the Associated Charities, the Children's Home, Neighborhood House, the Red Cross, and Stamford Hospital. The organization grew quickly and by 1925, 100 members had performed 4,660 hours of community service.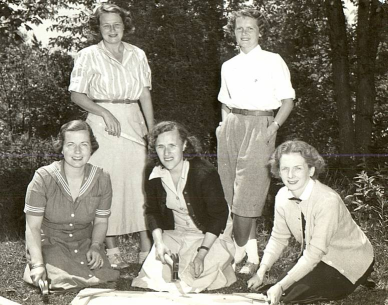 Since that time, JLSN has founded or participated in the establishment of more than 88 community agencies, including Domestic Violence Services, Lockwood-Mathews Mansion Museum, The Maritime Aquarium at Norwalk, Shelter for the Homeless (Pacific House), The Volunteer Center of Southwestern Fairfield County, The Women's Crisis Center, and the Fairfield County Women's Center at Norwalk Community College.
Our League members continue to volunteer countless hours each year as trained community volunteers.
JLSN Founding Board of Directors
| | |
| --- | --- |
| Gertrude Ingersoll, President | Margaret Douglas, Vice President |
| Helen Betts | Isabel Pitt |
| Marguerite Daly | Leslie Sawyer |
| Kathryn Durey | Ada Stebbins |
| Harriet Kelley | Catherine Sherrill |
| Adele Knobloch | |
JLSN Past Presidents
| | |
| --- | --- |
| Elizabeth "Bits" Catino | 2019-2021 |
| Caroline Sadowska | 2018-2019 |
| Char Zoller | 2017-2018 |
| Stephanie O'Brien Putnam | 2016-2017 |
| Lindsay Bohnsack | 2015-2016 |
| Kerry Safir | 2014-2015 |
| Susan Bridges | 2013-2014 |
| Sarah Neumann | 2012-2013 |
| Amy Bien | 2011-2012 |
| Angelica Oxford | 2010-2011 |
| Stephanie Fairleigh | 2009-2010 |
| Julie Halloran | 2008-2009 |
| Karen Gibbons | 2007-2008 |
| Lisa M. Ferraro | 2006-2007 |
| Gina Z. Blum | 2005-2006 |
| Catherine Garvey | 2004-2005 |
| Kathy Bendheim | 2003-2004 |
| Noelle Hughes | 2002-2003 |
| Lisa Lillie | 2001-2002 |
| Andrea K. Cross | 2000-2001 |
| Martha G. Witte | 1999-2000 |
| Lisa U. Stout | 1998-1999 |
| Ann Wilbur McCulloch | 1997-1998 |
| Sandra W. Channell | 1996-1997 |
| Mary Thompson Lee | 1995-1996 |
| Lisa F. Bannerot | 1994-1995 |
| Cecilia Queeney Maher | 1993-1994 |
| Michele Califano Stevens | 1992-1993 |
| Sharon W. Phillips | 1991-1992 |
| Debra Burns Melican | 1990-1991 |
| Mrs. S. Jane Peck | 1989-1990 |
| Mrs. Andre Pierre Van Parys | 1988-1989 |
| Mrs. James L. Martin | 1987-1988 |
| Mrs. Richard C. Grove | 1986-1987 |
| Mrs. Robert G. McGroarty | 1985-1986 |
| Mrs. Robert E. Gamber | 1984-1985 |
| Mrs. William J. Raver | 1983-1984 |
| Mrs. John J.B. Stoetzer, Jr. | 1982-1983 |
| Mrs. Jay M. Forrester | 1981-1982 |
| Mrs. William B. Mahony | 1980-1981 |
| Mrs. John C. Byers | 1979-1980 |
| Mrs. S. Leroy Reed | 1978-1979 |
| Mrs. Stanley A. Krok, Jr. | 1977-1978 |
| Mrs. Theodore H. Smith, III | 1976-1977 |
| Mrs. George C. Vest | 1974-1976 |
| Mrs. Robert W. Van Camp | 1972-1974 |
| Mrs. Charles E. Bradley | 1970-1972 |
| Mrs. John T.D. Rich | 1968-1970 |
| Mrs. John S. Nussbaum | 1966-1968 |
| Mrs. Renwick Case | 1964-1966 |
| Mrs. Mark H. Brown | 1962-1964 |
| Mrs. T. Cole Williams | 1960-1962 |
| Mrs. Robert R. Lindsey | 1958-1960 |
| Mrs. Harvey L. Rohde | 1956-1958 |
| Mrs. Curtis A. Abel | 1954-1956 |
| Mrs. Lyons Richardson | 1952-1954 |
| Mrs. Dwight Marshall | 1950-1952 |
| Mrs. Frank J. Brazel, Jr. | 1948-1950 |
| Mrs. Roger Hull | 1946-1948 |
| Mrs. Harder Smith | 1944-1946 |
| Mrs. C. Louis Fincke | 1940-1944 |
| Mrs. Jean Ware Hoyt | 1936-1940 |
| Mrs. Windsor C. Batchelder | 1934-1936 |
| Mrs. William A. Kelly | 1932-1934 |
| Mrs. George S. Wheat | 1929-1932 |
| Mrs. W. Lyman Campbell | 1929 |
| Mrs. Helen Scovill | 1928 |
| Mrs. Alfred N. Phillips, Jr. | 1927-1928 |
| Mrs. Solon C. Kelley, Jr. | 1926 |
| Mrs. Frederick Wildman | 1925-1926 |
| Miss Gertrude V. Ingersoll | 1923-1925 |