The Junior League of Stamford-Norwalk welcomes new members with an interest in making an impact in their communities, developing personal and professional skills, and creating lasting friendships with like-minded women. All women age 21+ are eligible for membership.
Interested in joining the Junior League of Stamford-Norwalk? We are currently accepting applications for our next new member class!
Please complete our new member application or email info@jlsn.org for more information.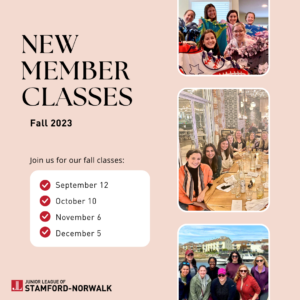 JLSN has Three Membership Levels:
Provisional/New Member
New members are women who are joining a Junior League for the first time! New Junior League members participate in a new member course (minimum of 3 classes required to complete the path to membership), attend at least 1 volunteer event during their provisional year, and work together on one of our committees. They also experience the Junior League through meetings, leadership trainings, social activities, and additional volunteer opportunities. Provisional members pay our annual membership fee (pro-rated if you start in the 2nd half of the league year), and a $25 course fee.
New member course classes are held between August and May of each year.
Active
Active members are the heart of our volunteer efforts. Each active member serves on a committee and participates in community events, social events, fundraising, and training opportunities throughout the year. Active members pay annual renewal fees of $185, which includes membership in the Association of Junior Leagues International.
Sustaining
Sustaining members of JLSN have been members of the Junior League for 5+ years. Renewal fees for sustainers have three tiers based on date of birth ($130 for members born after June 30, 1950, $80 for members born before June 30, 1950, and none for members over 80 years of age). Sustainers have no meeting or placement requirements, but continue to participate in League events as well as their own calendar of special events and social activities.