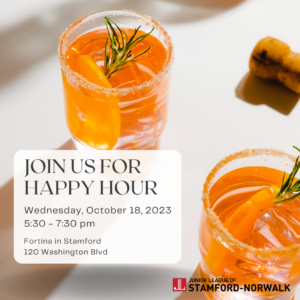 Happy Hour & Recruiting Event
Wednesday, October 18, 2023, 5:30 – 7:30 pm
Fortina, 120 Washington Blvd, Stamford
Sign up on the League calendar here.
Come join the Junior League of Stamford-Norwalk for a low-key happy hour at Fortina in Norwalk. All are welcome, so bring your friends on down for some fun!
This is a great chance to bring your friends who are considering joining our League. They will have the chance to meet fellow members, ask questions about our League, and enjoy some quality time with friends!