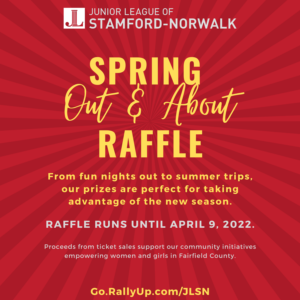 Click here to purchase your raffle tickets for the chance to win some amazing prizes, all while supporting JLSN!
Winners will be announced on Saturday, April 9 at 4:00 p.m. during a livestream event.
Be sure to join us at 314 Brewery (314 Wilson Rd, Norwalk, CT) on Saturday, April 9 at 4:00 p.m. for a social event celebrating the Spring Out & About Raffle! We will be announcing winners via livestream while enjoying a drink in the beer garden. You will get one (1) drink ticket for any craft beer or seltzer on the menu. Purchase event tickets by following this link. Cheers!
Questions? Please email development@jlsn.org.